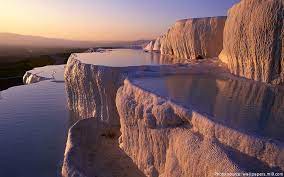 Visit Pamukkale in 2021
---
Pamukkale, meaning "cotton castle" in Turkish, is a natural site in Denizli Province in southwestern Turkey. The area is famous for a carbonate mineral left by the flowing of thermal spring water.[1][2] It is located in Turkey's Inner Aegean region, in the River Menderes valley, which has a temperate climate for most of the year.
The ancient Greco-Roman city of Hierapolis was built on top of the travertine formation which is in total about 2,700 metres (8,860 ft) long, 600 m (1,970 ft) wide and 160 m (525 ft) high. It can be seen from the hills on the opposite side of the valley in the town of Denizli, 20 km away. Known as Pamukkale (Cotton Castle) or ancient Hierapolis (Holy City), this area has been drawing visitors to its thermal springs since the time of Classical antiquity.[1] The Turkish name refers to the surface of the shimmering, snow-white limestone, shaped over millennia by calcite-rich springs.[2] Dripping slowly down the mountainside, mineral-rich waters collect in and cascade down the mineral terraces, into pools below. Legend has it that the formations are solidified cotton (the area's principal crop) that giants left out to dry.[citation needed]
People have visited area for thousands of years, due to the attraction of the thermal pools.[1] As recently as the mid-20th century, hotels were built over the ruins of Hierapolis, causing considerable damage.[citation needed] An approach road was built from the valley over the terraces, and motor bikes were allowed to go up and down the slopes. When the area was declared a UNESCO World Heritage Site, the hotels were demolished and the road removed and replaced with artificial pools.[citation needed] There are well-preserved Roman ruins and a museum on site. A small footpath runs up the mountain face for visitors to use, however the travertine terraces are all off-limits, having suffered damage, erosion and water pollution due to tourism.
---